| | |
| --- | --- |
| Posted on November 30, 2016 at 10:30 PM | |
Growing up, our family vacations meant loading the car up with camping gear and heading west for the Rockies. Anticipation would build as we crossed into "Colorful Colorado" until we could see the first hint of our destination. The outline of the mountains would appear low on the horizon while still far away, slowly becoming more prominent with each passing mile. Reaching the front mountain range made it all seem real, with the roughening terrain, curvier roads and the first aspens. Yet our destination was still two or more hours away, deep in the second range. 
So it goes as the club grows. Late summer brought make-shift walls and padlocked doors as openings were cut into the wall between the old and new. A few weeks ago the locks were removed, allowing glimpses at our destination on the horizon. Those temporary walls themselves came down a couple of weeks ago. We can now step into the expansion space and feel what it will become over the next few months. 
Yet there is still a ways to go. Rubber flooring has been ordered and should arrive by the third week of December. Two power racks have also been ordered and are set to be installed next Friday. Free weights and plate loaded machines will gradually be moved into the new space as painting and other work is completed. 
The Group Ex area will be functional by the end of December with a new sound system and spin bikes. Watch for new class formats and times. The current Group Ex will be converted into a Yoga/Pilates/Barre' class space once we are able to use the new space for our other classes. The completion target for this conversion is February 2017.
Are we there yet? No, but with each week that outline on the horizon will become more real.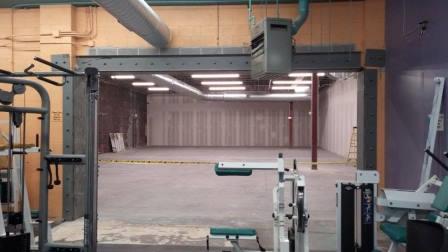 Categories: None
/