| | |
| --- | --- |
| Posted on October 31, 2015 at 11:15 PM | |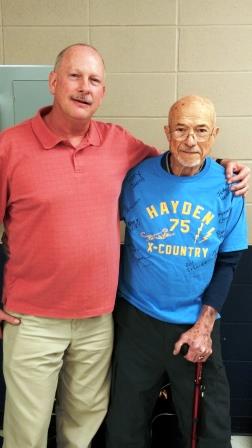 Last night was a special "back to school" night for my husband, Bill. His high school cross country team gathered to celebrate the 40th anniversary of their state team championship. It was the first in any sport for the school. The evening's festivities were to start with a chili supper in the school cafeteria and then all would head across the parking lot to watch the football game and be honored at halftime.
Bill entered the cafeteria to be greeted immediately by their head coach. Although the once stocky man has become thin and frail with age, his no-nonsense, ride-your-butt-because-he-cares-about-you presence was felt as soon as we entered the room.
We had packed warm layers and rain gear as temperatures were in the low 40's with a steady drizzle. One of his team mates had grown up and become the president (a.k.a. princlpal) of this same school. He offered us the opportunity to hang out in the cafeteria through most of the first half of the football game. Stay warm and dry or shiver in the stands? That was a no-brainer
The extended time indoors gave each of the guys more time to reminisce and share how coach had influenced their lives. They stood up one by one and updated the group about life after high school and how their being part of this team had shaped their paths. Over and over, the recurring theme was how coach communicated that he believed in each one of them. That in turn helped a bunch of then teen-aged boys believe in themselves. From that belief came the discovery of strength within to push their own physical limits AND the discipline to work together as a team. These ended up being great gifts to be carried forward as these boys became men, laying a foundation as they built careers and raised families, through good times and bad.
As a spouse taking all this in, it was a good reminder that coaches can profoundly touch lives. Whether a teen with athletic aspirations or an adult at midlife seeking better health, there is strength within to draw from. A good coach can plan challenging workouts and bark at their clients to get them to push harder. A great coach cares. A great coach earns trust. A great coach plants seeds, helping their client connect with their own personal strengths. The greatest successes and gains come from within.
You won't find coach's name in a google search. But he is living proof that great coaches don't always become household names. They do touch lives. As these now middle aged men, some retired, many with grandchildren will tell you, coach was a connector. After all of the tributes, he only had a few words when it was his turn to speak last night, saying "you all had it in you to win this title, it was my job to help you see what I could see in you." I wasn't on his team, I can see his influence in Bill and can use his message and example in my own coaching practice.
Categories: None
/