| | |
| --- | --- |
| Posted on May 13, 2015 at 12:20 AM | |
Time and again life's lessons become clearest when seen in the rearview mirror.  With May being a month where riding bikes becomes the cool thing to do whether for fitness or transportation, I can't help but look back to a time when I was the kid with the slowest bike.  By the time I was twelve, my banana seat bike was too small so my parents bought a more grown-up sized Free Spirit from Sears.  No more kiddie coaster brakes or single speed silliness.  With the flick of my finger, I now had three...count them THREE gears.  All of my friends seemed to be graduating straight to ten-speeds but I didn't feel like I was missing out.  My bike was the same size as everyone else's and I always kept up when we rode around the neighborhood.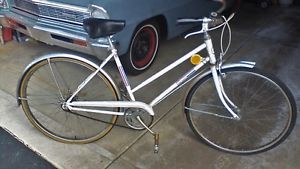 That all changed one afternoon, on a ride with our church youth group.  An adult who accompanied us pointed me out saying that the kid with the slowest bike was hanging right with the group.  Gee thanks...I think.  Then to prove his point, he let me try out someone else's ten speed.  I hated it for the first few minutes as I fumbled through the gears, hoping that I wouldn't crash in front of my friends.  Then I found the right gear and realized that this bike felt so much faster, so much easier to ride than mine.  I had to get one!
When I got home, I announced to my parents that I wanted a ten speed.  My mom responded "you already have a perfectly good bike.  If  you want a ten speed, start saving your money."  They did take me bike shopping at Sears, Montgomery Wards and the Schwinn dealer to let me see how much a brand new ten speed bike would cost. It was going to take a lot of babysitting to come up with $100+.  Fast forward a few months.  I had managed to save around $70 when my mom came back from hitting some garage sales one morning and told me that someone had a used bike for sale.  It was a yellow Schwinn Varsity ten speed that looked like it had hardly been ridden.  For $75, it was mine.  That bike was with me through high school, college and even my first triathlon.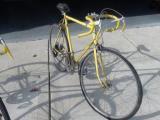 I've bought three bikes in the years since, each one costing considerably more than $75.  But the bigger thing is that I've never stopped riding. Those other ten speeds, bought by parents for their children, ended up sitting unridden in garages and basements just a few years later as my friends left their bikes behind with other vestiges of childhood.  I had no idea that I had a slow bike so I didn't realize that I was to working harder to keep up.  Did this make me a stronger cyclist?  I don't know.  What I do know is that when my parents made me earn the money to buy a better bike, I realized that this was something that I really wanted and not something to take for granted...priceless life lessons.  
Categories: None
/